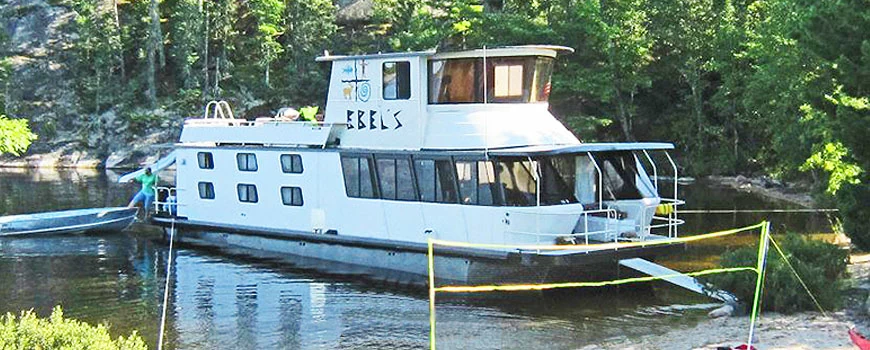 65 Series
View rental rates, standard features, floor plans, and more! View more photos of this houseboat, or check availability and book a trip now for a truly unique Minnesota houseboat vacation!
65' Series
(Accommodates 10-12 Maximum)
The grandest of them all. Accommodations for up to 12 persons. 5 separate staterooms with double beds, 2 single bunks and a sofa sleeper. 3 bathrooms, dishwasher and hot tub. This is the only boat that we price per person. Perfect for 5 couples, 9 fisherman or 3 families.

The twin 70 horsepower outboard motors with dual controls allow you to get to the fishing hole with ease while towing as many as four fishing boats. The onboard fuel tanks and the fish cleaning center make it so convenient you'll want to use it for fishing every year!
Come experience the very best in Minnesota houseboat rentals!
Rental Rates

Day:

Rates are per person. Call for pricing

Week:

Rates are per person. Call for pricing

Mid-Week:

NA

Weekend:

Rates are per person. Call for pricing

Deposit:

$2000.00 (non-refundable)

Floor plans may vary. Discounts may apply. Pets allowed.

Standard Features

Standard features on all houseboats include:

2-8 cubic foot refrigerators
Oven and gas range
Easily operated controls
Dishes and cooking utensils
Hot and cold running water
AM/FM radio & CD player
3 Showers
Gas heaters
Swim slide
Deck chairs
Cooler
Carpeting
Hot tub
TV/DVD & Microwave
Toilet Paper
Linens (sheets only)
Bath Towels, Hand Towels, and Washclothes
Kitchen Towels
Garbage Bags
12 Volt Receptacle
Navigational Maps
Drip Coffee Maker and Keurig

Floor Plan